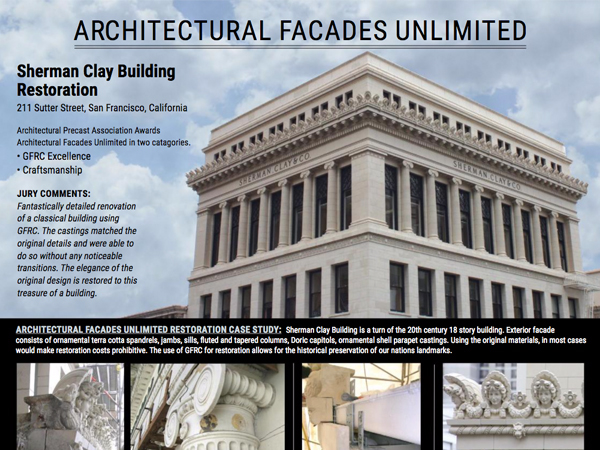 March April 2017 | Sherman Clay & Co. Restoration Building Masonry Design Magazine (Page 2-3)
Winterborne Estate
Architectural Facades Unlimited was a proud contributor to the Winterbourne Estate and worked closely with the Owner, Architect, and Construction Manager. Architectural Facades Unlimited created the Tuscan Segmented Columns, Lintels, Base Rails, Wall Caps, Pier Caps, Entry Signage, Entry Moldings, Black Granite Wall Veneers, Black Granite Window Sills, Base Moldings, Floor Pavers, Pool Copings, Log Shaped Stepping Stones, and Interior Fireplace Mantel, and spectacular Cast Stone Folly at the center of the maze.
Los Altos Hills Estate
Architectural Facades Unlimited created the Balustrade System, Columns, Moldings, Wall Caps, Pool & Edge Copings, Wall Veneers, Pavers, Stair Treads, Planters, Lintels, Door & Wall Trims, Keystones, and Pier Caps throughout as well as the Mantels & Over-Mantels in the Living Room, Dining Room and Guest House.

Nov. 10, 2015 | A.C.T. Strand Theater
The A.C.T. Strand Theater has received the 2015 regional American Concrete Institute's Award for Architecture.
Congratulations, everyone, with a particular shout out to the Concrete team. We want to extend the announcement to the whole team. The award submission included the following requested information:
Architect: Skidmore, Owings & Merrill LLP
Concrete Contractor: Bradley Concrete (structural and architectural concrete placement), Bay Area Concrete (architectural concrete finishing/polishing), Giampolini Courtney, with Architectural Facades Unlimited (mold-cast glass fiber reinforced concrete ornamentation)
Engineer: BKF Engineers (civil), WSP | Parsons Brinckerhoff (MEP)
General Contractor: Plant Construction Company LLP
Owner/Developer: American Conservatory Theater (owner), Equity Community Builders, LLC (development manager/project manager/financing consultant)
Ready Mix Supplier: Central Concrete
Structural Engineer: Skidmore, Owings & Merrill LLP
2013 | Caldecott Tunnel
Architectural Facades Unlimited modeled artwork, created molds and cast these six student-designed medallions.
Six hexagonal medallions embedded in concrete sit high above the east and west portals of the new fourth bore of the Caldecott Tunnel. Unveiled during the opening ceremony of the fourth bore on Nov. 15, 2013, the student-designed medallions pay homage to the 1937 Caldecott bores that are decorated with octagonal medallions displaying Art Deco scenes.